Pneumatic tubes and drive-up systems, night drops, vaults, safes and under counter steel, RMC offers all the security components critical to securing your clients assets. We proudly represent Hamilton Custom Made Security solutions.  We are eager to compete for your security business regardless of job size.  Representing the versatility of Hamilton, we are able to offer extensive custom ideas and designs, working with our clients to manufacture whatever they need.   Our experienced technicians provide service on all the components we sell, plus select service on other manufacturers products.
Explore RMC's solutions for:
Night Depositories
RMC offers a full line of night depositories, including the most secure, UL Listed night depository system. We also offer simple envelope drops for businesses.
We offer many options for night depository equipment, including:
80UC Night Depositories
Smart Depository
98RH Replacement Night Head
Envelope Depositories
Rotary Hopper Commercial Depository
Drop Box Depository Systems
Package Passthrough Systems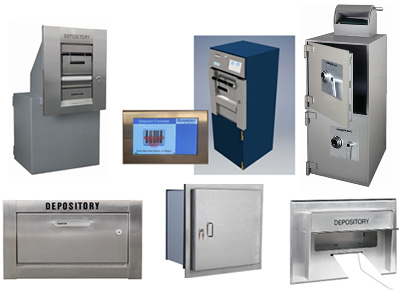 ---
Lockers
Hamilton lockers provide the security banks need for storing currency.  We will build just about any size, shape or finish of security locker.  A wide range of predetermined modular sections are available in your choice of solid steel, solid aluminum or heavy gauge stainless steel doors.  Even with Hamilton's Modular Lockers, you can still select the type of lock and paint color.  If something totally different is needed, Hamilton can custom build the locker that's right for you.  We specialize in building exactly what you need.
---
Undercounter Steel
Undercounter solutions are designed to offer security yet complement the interior design of your facilities. They are both attractive and functional to blend in just right to your needs.  The options are extensive, come in a cabinet and locker series, bodies are constructed with 16 gauge steel, replaceable drawer fronts, custom colors, stand-up, sit-down units, reversible door swing, various base options and much more.
---
Safe Deposit Boxes
Hamilton has virtually every Safe Deposit Box you need. If you are looking to match a 100-year-old installation or building a new facility, Hamilton Safe can fill the order.  Stainless steel boxes, modular aluminum, mix and match sections to get the optimum layout.  Let us design and build custom safe deposit boxes that will perfectly meet your needs.  Our custom boxes are made using ½" solid polished aluminum doors. Choose either our stamped numbers or our flexible numbering plate system.
---
Safes/Vaults
Hamilton manufactures the toughest UL Listed steel plate and composite safes designed to meet the highest security standards for businesses such as banks, credit unions, jewelers, pharmacies, retail stores, and many other commercial applications.
We can build your safe in whatever size and security rating that is needed. We will also help you design the interior compartment layout and choose the right locks, alarm devices, and other needed options.
Hamilton's modular vault panels provide the ultimate in security and flexibility. Panels are lighter and easier to install than poured on-site concrete walls. Plus, as your vault needs change, Hamilton panels allow you the flexibility to increase your vault by adding more panels, or if moving, panels can be relocated to a different site.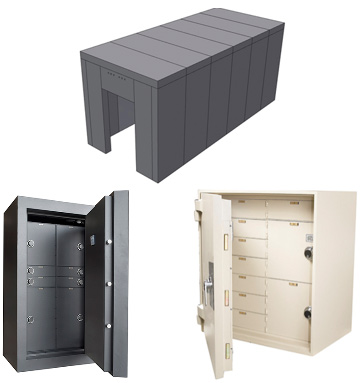 ---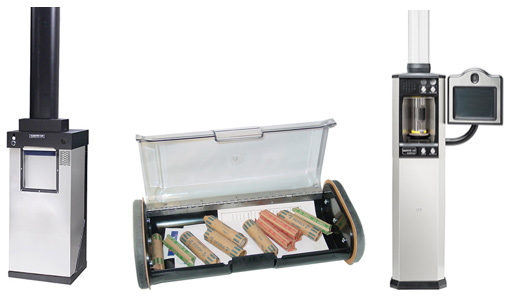 Drive-up Systems
RMC offers everything from complete drive-up system installation and service to replacement canisters.  Hamilton's pneumatic tube systems come in a variety of configurations, up-send, down-send, compact or wide, weatherproof, and customizable with audio/visual components, offering quality, efficiency, and security all in one!  Does your system need an upgrade?
Pneumatic Delivery Tube Systems:
HA-1000
---
The HA-1000 offers up-send and down-send for customized lane design, constructed of all-weather, low maintenance stainless steel, and crystal clear communications with Hamilton Air's 5000 Series audio system and optional two-way LCD video.
HA-47
---
HA-47 is designed to accommodate both retail and commercial customers. The unit is powerful enough and the carrier large enough to move substantial quantities of coins, large prescriptions, or other heavy objects. Unique carrier lies flat, opens square, and exceeds 300 cubic inches of volume.
HA-33
---
The HA-33, Hamilton's largest pneumatic drive-up system, handles the most demanding commercial transactions. A large 10-inch commercial system constructed of low maintenance stainless steel. Huge carrier capacity: over 500 cubic inches.
Audio & Video Components:
Hamilton's superb Audio/Video components add a human touch to remote banking communications. The 5501 Series Audio + 5517 Customer Video turns drive-ups into full function service platforms and helps to keep customer lines moving with better communication.
The clearest digital audio technology
Consoles available to serve up to 12 remote drive-up lanes
User selectable background "Noise Canceling" feature
User-programmable "Auto Greeter" functionality
Easy change color-code system for drive-up lanes
Built-in wireless headset port
Membrane keypad rated for two million uses
Large 10" color LCD with optional "Sun Viewable" display
Can be included in new installations or added to existing Hamilton Air HA-1000, HA-45, HA-47, and HA-33 equipment
Teller Transaction Drawers:
Hamilton's Transaction Drawers provide the perfect combination of ease-of-use with maximum secured protection. Two available models, the standard 400DD and the oversized DCD-18 each are UL Level 3 rated and constructed of rugged, maintenance-free stainless steel. Two unique features to Hamilton drawers include the patented suspension-free design which virtually eliminates mechanical maintenance problems common with other transaction drawers. Also, the 400DD and DCD-18 provide the operator access to the drawer at the edge of the counter. There's no reaching or straining to place or remove the contents within the drawer.
Easy push-button electric operation with manual override
The drawer is sealed to outside air entering the building
Drawer extension adjusts to various curb widths
Audio system included
Great for both new installations and replacements
Teller Windows
Hamilton Vision Series Windows are constructed using rugged stainless steel frames and bullet resistive glass. Both the frame and glass are UL-Rated. Standard sizes include 3'x5′, 3'x6′, 3'x8′, 3'x10′, 3'x12′ and 3'x15′. We make Custom Sizes as well!